Yesterday's ruling that made gay marriage legal in the entire US was a special and important moment for everyone. Profile pictures are being changed and beliefs are being adjusted. And yet, there are still just too many people who don't see why homosexuality should be accepted and gay marriage legalized.
It happened in the US. Why are Sri Lankans so excited?
Here's why. US legalizing gay marriage isn't a country's achievement. It's a right won by people and a hope to many that their day isn't far behind. When the earthquake in Nepal happened, did you keep your mouth shut because it didn't happen in Sri Lanka and didn't directly affect people living in Sri Lanka?
I'm guessing you did want to help those people, not because they were Nepalese but because they were human. When US legalizes gay marriage, it means that the world is one country closer to being a world that respects and accepts people without discriminating based on factors, especially those humans have no control over.
So how does it help the LGBT community around the world when US legalizes gay marriage? Well, the battle has to start somewhere. You start small. The battle in the US started that way. One state at a time. And now, all states agree that gay marriage should be legalized. Soon enough we will see a world that allows gay marriage and doesn't criminalize homosexuality.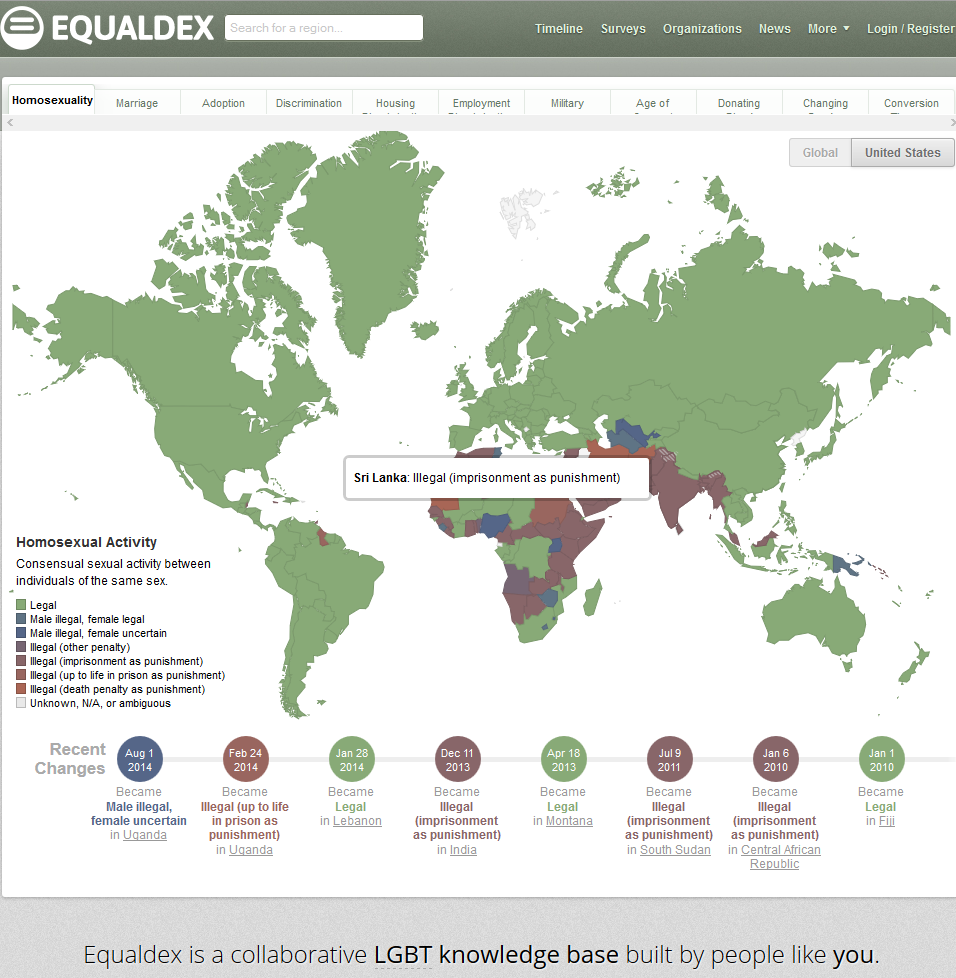 It's high time the world went green! (Image: https://twitter.com/gihangamos/status/614453308493688832)
It's against god's will
Now, I don't believe in any god but if I was to, I wouldn't want to believe in a god who considers homosexuality a sin.


So

#LGBTrights

they won. But how can a man challenge God's will? God created Adam & Eve not Adam & Ethan. I don't judge, but I prefer God.

— shenu peiris (@Shenuminator) June 27, 2015
The above tweet isn't the only one along those lines. Many believe homosexuality is something that god wouldn't approve of. Now if you are to believe god created humans and that god created everything, god created all that a human is made of. This includes his complexion, beliefs, height, weight, mindset and sexual orientation. So a man who loves a man isn't going against god's will but is simply following it.
Purely from what I've seen, I can say that usually homophobes also happen to believe in god. Most anti-LGBT posts mention god and his will. Why would anyone want to believe in a god who excludes his own creations?
There are more important things to fight for than marriage
I personally don't find marriage to be something I would want in my life any time soon but I would someday like to get marriage under a law that accepts marriage between human beings instead of only male and female.


Why is marriage important? Well, for some it offers a sense of security while for others it's another level of their relationship. Who are we to question someone's decision to marry if the parties concerned have given their consent? Why is legalizing gay marriage important? Well, why not? If heterosexuals are allowed to get married, then why shouldn't everyone else?


We live in a world where a man is allowed to be married to four or five women but doesn't allow a man to get married to a man or a woman to get married to a woman. It's high time we gave people the choice to get married or remain unmarried without taking into account one's ethnicity, sexual orientation or sex.
You support LGBT rights? OMG! You are gay!

Recently, my father asked me if I have a boyfriend. I told him I don't. The next day he asked me if I have a girlfriend. I told him that I don't have a girlfriend either and asked him why he was asking all these questions. His reply was unexpected. He said that he just wanted to know where I stand in life and would respect my decisions regardless of what they are. I have never been prouder of my father.


In the past few years, just too many people have asked me if I was gay. The books I read and my hair cut were the main reasons for these questions. People are incredibly curious about a person's sexuality. In fact, just yesterday, during lunch, two friends from work were talking about the sexual orientation of parliamentarians.


Why do we consider someone's sexuality gossip worthy? And why do we make assumptions about one's sexual orientation?


Before talking about these assumption, let me tell you that fighting for LGBT rights doesn't mean someone belongs to that community and it doesn't mean they can be 'converted.'


On at least three occasions, Christians (please note that this doesn't mean all Christians are like this) have attempted to convert me. These weren't subtle attempts but clear 'Why don't you join our clan?' sort of attempts.

I have been around homosexuals, bisexuals and transsexuals and never have they even attempted to 'convert' me. They have always respected my beliefs and more importantly, have never inquired about my sexual orientation. So no, associating with the LGBT community or fighting for their rights, for our rights, will not make anyone change their sex or orientation.


Coming out of the closet
Why? I feel coming out of the closet or making a declaration about your sexual orientation is completely unnecessary and has been brought on by the way society has considered heterosexuality as normal and as the only sexual orientation one could have. When I talk with a person, unless I am attracted to them and want to change the direction our friendship is headed, I wouldn't show interest in their sexual orientation.
While I haven't had many sex-related discussions with my parents, I've never had to straight out tell them that I'm interested in males. So why should I have to tell my parents I'm gay? I would think it's enough for them that I find the right person at the right time and that this person's sex will be of no importance to anyone.


We are told that appearance doesn't matter when it comes to love. Then why does sex matter? And I'm not talking about sexual intercourse but if the people in love are male or female. Why can't we accept that just as ethnicity or appearance is inconsequential, that sex and gender is also of no importance?

And even though for years and decades people have been fighting for equality, there remains a significant number of people who continue to reject the idea of humans being treated as equal.
So my dear homophobes and narrow-minded people, stay in your closet. It's still not safe for you. And who knows, you might catch a gay-germ if you leave your hiding place and come out to this god-awful world full of sinners.